This article will help you understand Lean Six Sigma Methodology in a short and crisp manner. If you are in the process of learning concepts to streamline a business process, then you are in the right place.
Introduction
With the fast-paced business world, every competitive edge matters, for which every leading business house works, puts in their best effort. Professionals continue to explore, experiment with new tools, techniques & Practices. Lean Six Sigma is one of the most effective experiments of John Krafcik in the year 1987.
We all have heard of Six Sigma and its importance in process improvements. It certainly aims to reduce the time, defects in the process, and variability. Six Sigma uses various statistical tools to analyze data & create a visualization of process opportunities.
Lean & Six sigma have certain similarities that could be brought into one seamless method. "Lean Six Sigma" has been famous for eliminating waste besides encouraging cultural change in the organization..
What is Lean Six Sigma?
When John Krafcik, the CEO of Waymo, compared the Toyota system called TPS phenomenon with the traditional mass production systems. He found that the TPS attributes need less of everything to create a given amount of value. Hence it is named "Lean".
Lean is a toolkit, a mindset that can eliminate wastage and streamline processes. It reduces process cycle time. We need to involve people at every stage of process, empower them to improve their output and the way they work.
Lean principles can be applied in any environment like Manufacturing, Customer support or Service delivery. It is a step-by-step approach to eliminate waste. This results in improved productivity with better quality of the products. The end customer would become your brand ambassador with the least investment of resources.
Most organizations try to use it as a tried and tested approach to ensure continuous improvement across their processes.
Lean Six Sigma is based on a set of principles that are drawn from both worlds of Lean and Six Sigma.
Five Principles of Lean
According to Womack and Daniel T. Jones, founders of Lean Enterprise Institute (LEI), these 5 key principles have to be kept in mind for the success of any Lean Six Sigma project. These principles address real-world challenges.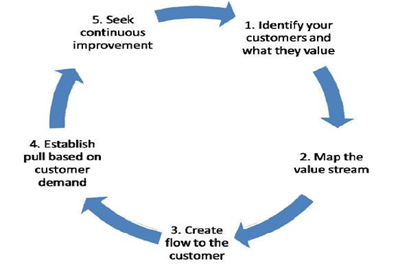 Define Value:
Value is the most important word in Lean world. It is defined as a process of making a best product or service for the end customer. Identifying the opportunity areas while creating a product or service for a customer, is in other words called Value.
Ask yourself, what does the customer value.
Customer usually looks for good quality product with the best price. If there are opportunities in the process then we could incur lot of wastage or poor quality of product.
Example: Let us take a Supermarket. The manager of the supermarket could notice two opportunities that need immediate attention. ( 1 ) The different kinds of waste that he encounters at the supermarket and ( 2) Supply chain issues that impact delivery time leading to customer dissatisfaction. Issues identified are the values that need to be eliminated to improve customer satisfaction, in turn, business growth.
Value Stream mapping:
Once the value is determined, the next step is mapping all the processes. Need to draw out the process from start (raw material ) to the final output ( finished product ) , which is called value stream mapping Example: In our case, we need to map all the processes step-by-step in a flowchart. The sequence would start from the time material is ordered for the supermarket to the time finally it is sold to a customer . While doing so we may have to look at warehouse, supply chain, etc in sequential order.
Create flow:
While we Create a flow of the entire process. Synchronize with the customer demands and help eliminate 8 common wastes. This would improve the overall experience and value for money.
Over producing
Waiting
Transport
Poor Process design
Inventor
Motion
Defects
Underutilized personnel and creativity
Establish pull:
Once the flow is created, it's time to establish "Pull". This means, responding to customer demands as quickly as possible without creating excess inventory. The "Pull system" helps in improving the process cycle time. Employees need to work faster and eliminate waste.
Let us go back to our example: Now that the flow chart is available, the manager of the supermarket has to implement "Pull". He has to establish a process keeping in mind the delays at every step of material transfer, taking both time and money into account . In this process, he may check all the stages to ensure the customer demand is met without excess inventory.
Seek continuous improvement:
Once a process is finalized, need to work on executing the same. Post-implementation, consistent efforts have to be made to meet the ever-changing customer demands. We need to have a process for eliminating waste or defects from time to time to enhance customer experience. The organization has to build a culture, where every employee would participate in eliminating waste and adding value to the customer.
Lean Tools:
Lean tools help in improving the overall Quality control. Following are the different tools:
Value stream mapping: It helps to have a 360 degree view a process and identify the gaps. This process also helps in optimizing and eliminating wastage at every stage..
Kaizen: It is a continuous improvement approach focusing on every process of the organization. As said earlier, to institutionalize this practice, a lot of commitment is needed from the teams who form the base of an Organization and should also be well supported by the leadership across.
Just in Time: Eliminates over-production and inventory wastage.
Single Minute Exchange of dies: Works on reducing the change over time of the equipment, to less than 10 minutes.
Poke Yoke: It is more like a mistake-proofing device commonly used to alert operations on defects or failures, thereby enable them to take corrective steps asap.
Jidoka: Also called "Intelligent Automation". This was developed by a Japanese industrial designer. The required quality is automatically built into these Machines, which help the operators to stop production as and when a defect occurs.
Heijunka: Literally means "leveling" developed by Japanese. By implementing this tool, the production is done in batches. Production would be based on customer demand only.
Gemba (Go and see): It is an act of visiting the place of action by the leadership to understand what happens on the production floor.
Kanban: It is a "Lean Production" technique. This technique helps produce items in line with the market requirement, thus eliminating the human error
Implementation of Lean Six Sigma Methodology:
Successful implementation of the Lean Six Sigma methodology will help the workplace to be efficient and effective. It Improves the output of every process through Value stream mapping and eliminating waste.This means that the employees of the organization will need to learn its principles and tools. They would need the support of consultants, who on-call could guide them as and when needed.
Before implementing these principles, it is extremely important to take the necessary approvals from the management. Most Lean Six Sigma initiatives start at the operation floor, under the guidance of their leadership.
The leadership team should consist black Belt holders. These members can influence the Organization culture towards Lean Six Sigma
Three key elements of Lean Six Sigma:
Techniques and Tools: The analytical tools and techniques of Lean Six Sigma help us in resolving problems across any process.
Methodology and process: The different Phases in Lean Six Sigma help us to identify the root cause of the problem and come up solutions.
Culture and Mindset: These tools and the culture of using the data, helps the organization to improve and achieve business goals.
Lean Six Sigma gaining importance
A Doctor who cannot understand the patient challenge can cause loss of life.
Example: Manual heart pumping is an intricate step to preserve a life in ICU. A single miss could cost the patients life. Similarly, in business one incorrect decision could compound into huge losses.
In such situations, a checklist is all that holds victory instead of the dependency on human memory for success. An operational process checklist, with each step of the rescue along with preparation and notification measures, results in miraculous success.
Lean Six Sigma has proven to bring a competitive advantage to various business houses such as Microsoft, Wipro, and Motorola. Excellent Processes have been developed on this platform , these processes have met customer expectations. They have improved customer loyalty and thereby improving the overall sales with minimal negative reviews.
Possible challenges – during the implementation:
While we all know that Lean Six Sigma is essential for continuous improvement, however many organizations have failed multiple times. Some of the reasons are listed below.
Organization Culture
The culture of continuous improvement often starts off well . However, they fail to have a lasting impact as the participants as they tend to lose motivation and focus. As most of them return to their old habits of working.
Organizations that are quite young, due to lack of knowledge around the benefits of this platform, do not propagate to the Lean Six Sigma culture. This is majorly observed in start-ups, which take time to imbibe this culture at their workplace.
Identifying the priority items while implementing Lean Six Sigma. Teams miss out in assessing each initiative in terms of its value to the organization's overall strategy. This could result into an overload of new initiatives creating a major challenge as the team would lose the Organization goal.
When the business operates with a highly regulated industry. There could be a constant audit process in place. Then it is inevitable that your implementations will come with some level of governance which becomes a major challenge.
As each business model is different, it is vital to understand that what comes easy for a company can result in a significant challenge for the other. Thereby the methodology to implement has to be thought thru before rolling out
People
It involves a large number of stakeholders across various functions and departments in an Org. bringing them on to one page could be a challenge. To name a few – Quality Managers, Training departments, IT department, Lean Six Sigma Experts, etc., . In some of the regulatory-based industries, the list may include Compliance and Risk officers as well.
When the organization fails to include employees who will have to adapt to new ways of working.
Sometimes the tool's learning curve is too steep, so it may prove to be a barrier instead of helping the people involved in the project.
If your people are ignorant or fail to follow the new and improved Lean Six Sigma process, then it becomes completely futile.
Instant results are not apparent, then employees may turn hostile to the change which are being implemented.
Similarities and differences between Lean Six Sigma and Six Sigma
Similarities
Both work only when there is a commitment from every member of the organization
Emphasize on the need to give control of the process to the practitioner on the floor.
Share the same ultimate goal to eliminate waste and increase the efficiency of the system as much as possible.
Lean Six Sigma combines Lean and Six Sigma principles into one methodology for business improvement.
System focus on defining the Value as per the customer's need.
Focus on building processes and examining them through the eye of the customer.
Both methodologies have an extreme focus on check sheets and process flow charts
Differences
| | | |
| --- | --- | --- |
| S.NO | Six Sigma | Lean Six Sigma |
| 1 | Six Sigma is known for process improvement | The lean process focuses on eliminating waste |
| 2 | Six Sigma has its roots in the US | Lean has its origin in Japan |
| 3 | The main goal is to reduce the defects below 3.4 for every one million opportunities | Refinement to the production process is essential and reducing wastage is the key focus area |
| 4 | The methodology is based on data and its analysis is done by using statistical tools and is highly data-driven | Lean Six Sigma methodology will bring the value of Zero wastage and reduce the defects and variance in the processes. |
| 5 | Six Sigma works on tools such as mistake-proofing, design of experiments, and standard work. | Lean Six Sigma involves working on both top-line as well as bottom-line of the enterprise such as revenue and profits. |
| 6 | This works on continuous process improvement through data analysis and problem-solving for long-lasting performance | While Lean Six Sigma also believes in continuous process improvements, it analyses through workflows and processes when developing services or products |
| 7 | It works on Define, Measure, Analyze, Design, and verifying. | This works on defining value, Value stream mapping, Flow to the customer, Establish Pull based on customer demand, and seeking continuous improvement |
Future Lean Six Sigma Trends:
The common goal of businesses in every industry is to improve profitability. The Lean Six Sigma concept of continuous improvement technique promises to increase sales, lower costs with greater customer satisfaction levels.
The future of Lean Six Sigma is bright as every situation is different and Lean Six Sigma which is an integrated methodology of Lean and Six Sigma provides different tools to handle a variety of situations. Various projects for process improvement could be developed for long-lasting benefits.
Improving processes with the help of Lean Six Sigma is a three to six months project. This cannot be altered by including "Rapid Improvement Events". We can simplify the process improvement efforts, thus making it accessible to everyone and help transform the company goals to reality
Lean Six Sigma belts:
For Six Sigma and Lean Six Sigma, the certification levels are the same. There are 6 levels that denote various levels of certification which include, White, Yellow , Green, Black, Master Black Belt , and Champion. While White is the start and Champion is the final stage of these certifications. The Master Black belt and Champion are considered to be the top of the Six Sigma achievement structure. Black Belts are known as "Agents of Change" within the organization
Details of the Certification:
Six Sigma courses are of 6 different levels and are called Sigma levels. There are no specific eligibility criteria for Six Sigma certification, however, Green, Black, and Master Black Belt certification needs 3-5 years of work experience. These courses are available online on different training websites and the cost of the certification varies from 2,00,000rs – to 3,00,000rs.
Top colleges in India:
ISI Delhi, ISI Bangalore, and ISI Hyderabad are the top colleges of India offering Six Sigma certification.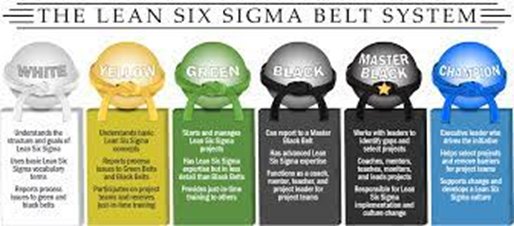 White Belt:
This helps in understanding how Lean Six Sigma works. They can use the correct terminologies and communicate potential issues effectively. Everyone in the organization can receive White Belt training as it helps them to come on board with the changes and actively participate in the process improvement.
Yellow Belt:
This gives a strong foundation and will be competent enough to participate and contribute to process improvement projects. These people can support green belts. It is not necessary to complete every level as per the hierarchy mentioned here. Most individuals start with a yellow belt or green belt.
Green Belt:
Also called project Managers. This is the most popular belt among all the certifications. These people will have the capability to implement and manage Lean principles successfully.
Black Belt:
These are called Mentors and Strategists. They can drive cross-functional process improvement projects. They can take the improvements to the next level and can function as a mentor for White, Yellow, and Green Belts.
Master Black Belt:
Those who progress to Master Black Belt are capable of high-level strategic planning, streamlining, and sustaining improvements for an organization. They oversee the application of Lean Six Sigma across the organization and can come up with strategies for future initiatives of the organization.
Champion:
Someone who is a part of the Leadership team of the organization can become a champion as the success of Lean Six Sigma largely depends on the leadership commitment.
Final Takeaway:
Lean Six Sigma and Six Sigma complement each other and form a powerful methodology that drives customer satisfaction, keeping in mind the overall growth of the business. Principles like Value mapping, eliminating wastes act as powerful tools that help drive in the right direction. The success of these projects lies completely in the hands of the employees along with the leadership team of the organization
Seamless communication, training, and hand-holding of people across the organization are some of the major key factors to achieving success with Lean Six Sigma.
Frequently Asked Questions :
Q.1 Who can do the Lean Six Sigma certification?
Ans: Candidates having 3 years of full-time job experience in any field. For the Black Belt certification, the candidate should have completed at least two Six Sigma projects or one project with a minimum of 3 years of full-time job experience.
Q.2 Is it essential to do the Lean Six Sigma certification?
Ans: Certification is worth doing as it helps in career growth, followed by an increase in the pay package. It is not necessary to complete all the levels of certification. You can select either a yellow, green, or Black belt based on your career objectives.
Q.3 Do we need extensive preparation and studying during the Lean Six Sigma training?
Ans: As the Black Belt certification is extremely difficult, it is important to have disciplined study and a sound preparation.