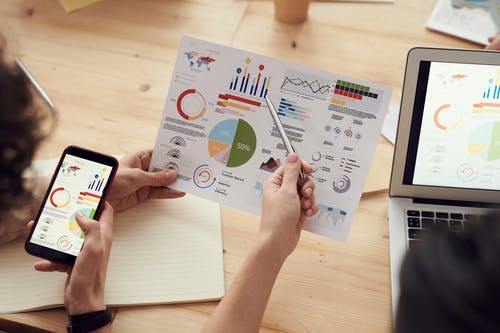 Did you know that there will be at least 11 million job openings for data scientists in India by 2026? Also, did you know that switching from data analytics to data scientist job increases salary by 31%! This astounding research was recently published on a popular website in India. This fact is also corroborated by viewing the number of listings on job portals like Naukri and LinkedIn. It clearly shows that a data scientist in India will be in great demand.
A quick search on LinkedIn shows that there were almost 2500 job openings in the past one month alone. Aren't you excited to become a part of this niche group of Data scientists in India?
What is Data Science ?
Data is constantly generated from various channels like social media, payment transactions, product catalogue updates, browsing patterns, etc. IBM describes Data Science as a "multi-disciplinary approach to be able to extract, process and generate actionable insights from massive amounts of raw data which can be used to drive business decisions."
The data preparation, analysis, and extraction of insights need the use of various scientific methods. They also require design of algorithms. The analysis makes use of mathematical and statistical knowledge. The use of technology and specialized programming languages is important to process this vast amount of data.
The advancements in technology result in software applications processing large amounts of data. Software applications implement complex algorithms and analytical functions to process data. In recent times, they also use Artificial Intelligence models for processing. The software parses large volumes of data transforming it into machine-understandable format. It parses this data intelligently and identifies patterns of data. These patterns generate predictions (or insights) that will support business decision-making.
What does a Data scientist do ?
A Data scientist is a Data Science expert who can apply knowledge and skills to analyze raw data. The Data scientist translates it into insights, trends and behavior patterns which will grow the organization's business. Data scientists analyze both structured and unstructured data coming from different sources. Structured data follows a well-defined schema. Unstructured data does not conform to any schema. Social media content is an example of unstructured data. Let us see an example scenario of a Data scientist in action in a typical consumer products company.
Data scientist in a consumer products company
Let us consider a practical scenario for a consumer products company. The company has different sources of collecting product data. This product data helps to understand its customer preferences and feedback. This helps the company to predict which products sell more or which need more marketing. Here let us see the role of a Data scientist who can analyze this situation. The Data scientist must suggest mitigating solutions to the business owners of the company.
In this case, a Data scientist will extract data about the product from different systems used by the company. He will use this data to organize, translate and derive actionable insights. The data about product orders and customer data are pulled from internal systems. The Data scientist may also use social media feeds for the product, website traffic data, and advertisement viewership data. Processing this data and applying different scientific methods to visualize the data, the Data scientist will suggest business insights like "More people follow website promotions than TV advertisements. Hence reduce spending on TV advertisements" OR "Customers comment negatively on product packaging, so invest in improving packaging".
Thus, if you aspire to be a Data scientist, you should have a well-rounded view of the following:
Identify the various data sources for collecting data
Apply different processing and transformation logic on this data
Derive insights that can assist the company to improve their business and customer perception
What key skills are needed for a Data scientist in India ?
In order to become a Data scientist in India, you should be analytical and always strive to have a data-driven approach. You should be able to use mathematical and statistical knowledge to build algorithms to process large amounts of data in many different ways.
Key skills needed for Data scientist
If you are preparing for a career as Data scientist in India, you must acquire these skills:
Good mathematical and statistical knowledge
Basic knowledge of Data structures and data warehousing
Able to utilize tools like Hadoop, Apache Spark, NoSQL databases for extracting, preparing, and collecting data
Understand data visualization techniques and tools like Tableau
Programming skills in languages like Python, R, SQL
Basic knowledge of Machine Learning (ML) and predictive analytics
Good communication skills
In terms of programming skills, you may have learned a different programming language in your college education like C++ or Java. However, it is still useful as it enables you to grasp new languages like R or Python easily. As the amount of data and data sources increase, the use of technology and programming skills becomes important for becoming a Data scientist in India.
In addition to the core skills, a Data scientist in India should also possess good communication skills. This allows you to explain the insights to business leaders so that they can take calculated strategic business decisions.
Educational background needed for Data scientist
Typically as per research shown in this article, almost 50% of Data scientists have a Master's degree, 34% have Bachelor's degree and 6% have a Doctorate or Ph.D. degree. The areas of specialization for these degrees are computer science, finance, economics, mathematics, and statistics. The research shows that many Data scientists opt for a Post-Graduation degree to specialize in the specific topics to gain the required skills and also build a network of peers in this discipline.
As you can see, the skills needed to become a Data scientist are a combination of core skills and soft skills that are rare to find. This is the reason why there is a huge demand for Data scientists in India.
What salary can a Data scientist in India earn ?
As per a recent news article, the average salary for a Data scientist is INR 6,98,412 per year. Data scientists in India with greater experience in the range of 8-10 years can earn an average salary of INR 15,00,000 per year. Of course, large corporations like Google, Amazon, Facebook, Microsoft offer higher salaries depending on skills and experience.
As mentioned in this article, you should also know that even professionals working in related fields like data mining or data integration can attend recognized courses and earn a Certificate in Data Science which can earn them anywhere from a 13-25% boost in their annual salary.
Thus, you can see that becoming a Data scientist in India will help you to land a good job with a lucrative salary. In addition to the remuneration benefit, you will be able to work in an upcoming, challenging field and create a niche career for yourself.
Which courses are the best to become a Data scientist in India ?
You can become a Data scientist in India if you are able to acquire the skill set mentioned above. An interest in the field of Data Science is a must. You can acquire the above-mentioned skills even if you have not studied these subjects in your bachelor's or master's degree education. You should take specialization courses on these topics to gain the necessary skills. This will prepare you to become a Data scientist in India.
Following is a compilation of the top 3 courses in the field of Data Science that can assist you towards this goal:
Henry Harvin Data Science course is the top course as listed in India Today and Tribune India. This course enables you to master the essential skills which will take you on your path to becoming a Data scientist in India. The advantage of this course is that it will equip you to apply the gained knowledge in a large number of real-world situations. A quick look at their course curriculum shows that they cover almost all the pre-requisite skills required to become a good Data scientist. The course is a unique mix of theory, programming, and application so that you gain practical experience in applying the concepts.
Key Benefits of this course
Following are some of the key benefits of pursuing this course:
Gain mastery over the concepts and identify the key problems.
Learn the application of Data Science skills and techniques to real-world business challenges
Understand programming languages like Python and SQL to query databases, extract data and analyze data patterns
Extract data from different data sources, clean and analyze the data to identify patterns.
Build and evaluate Data models
Practice with tools, techniques, and libraries used in the industry for data modeling and data visualization
Learn and understand Machine Learning concepts and different supervised and unsupervised Machine Learning models
Apply Machine Learning to address real-world problems
Update your CV with their expert's guidance. Have a better chance of shortlisting of resume.
In addition to the above benefits, this Data Science course also provides the support and experience of Henry Harvin's collaboration with senior mentors in the industry and their vast expertise.
Why you should choose this course
The course provides you with self-paced learning as well as Live online classroom sessions with a flexible schedule. The important takeaways are:
Combination of interactive Classroom sessions (32 hours) + E-Learning materials (50 hours)
Trainers having expertise in the industry with more than 10 years of experience in the field
Internship opportunities with Henry Harvin or their partner organizations
Live Projects to gain practical experience during training
Job opportunities with weekly updated listings
Gold Membership of Henry Harvin Analytics Academy which provides access to E-Learning through recorded videos, projects, studies, and free brush-up sessions for 1 year.
The course fees are reasonably priced at INR 15000. Henry Harvin Data Science course is offered in many cities across India, with a few major cities listed below:
Mumbai
Pune
Bangalore
Chennai
Delhi
Gurgaon
Kolkata
Coimbatore
In the Covid-19 situation, the Data Science course is now online and you can access support from any of these sites.
Additional courses to give you that extra edge
In addition to the Data Science Course, Henry Harvin also provides specialized courses for following which can help you in your quest to become Data scientist in India:
Python for Data Science
R programming for Data Science
Tableau course
Machine Learning with Python / R language
2. IntelliPat
IntelliPaat also conducts Data Science courses with specializations in different areas like Data Science and Artificial Intelligence or Data Analytics or Data Science and Machine Learning among others. They have about 15 different courses under this category and offer a mix of online and classroom training courses. IntelliPaat also provides online E-Learning module access, Self-paced videos and 24×7 support for any issues. They also have tie-ups with different universities in India and abroad but they offer different courses for these instead of a consolidated course providing benefits from all sources. The course covers many key topics like Data analysis with Excel, Python, SQL, Machine Learning and Prediction, Data Visualization with Tableau, Advanced statistics among other topics. The course seems to be more technically focussed and does not cover the soft skills aspects required to become a Data scientist.
Some key benefits of this course are:
Online classroom sessions conducted by Industry Subject Matter Experts (SME)
Recorded sessions of online classes
A personal mentor to track progress
A community for learning support and job support
The course fees are priced at Rs 85044 for the online classroom module and include job assistance and mock interviews in addition to the benefits listed above.
3. Indian Institute of Management, Kozhikode
Indian Institute of Management Kozhikode (IIM Kozhikode) also conducts Certificate Programme in Data Science that enables you to gain skills for understanding modern practices in this field. The course is designed to enable Business Leaders to understand the concepts of Data Science. It also enables them to drive transformation projects in their organizations. The course also provides Professionals the opportunity to learn and understand related methodologies and apply them to projects in their organization. The course covers key concepts like Data Analytical Thinking, Data Analysis with Excel and Python, Data Modelling, Data Clustering and some project management topics.
Some key benefits of this course are:
Online video lectures and demos (~ 50 hours)
Live sessions with IIM Kozhikode faculty ( 3 hours)
Assignments and Quizzes to track your learning
A 90-minute workshop from career management experts in industry and job placement assistance from Eruditus India Career services
The course learning outcomes are more aligned towards working professionals who wish to lead data analytics or data-driven transformation projects within their organization.
The course fees are priced at INR 71,750 for the module and IIM Kozhikode also offers a flexible EMI option priced at INR 3,981 per month.
How do I get a job as a Data scientist in India ?
You have seen that you can apply for any of the above-mentioned courses to gain your certification in Data Science irrespective of whether you are a fresher or a working professional. All the institutes offering such courses also offer job placement services. However, you also need to do certain things which will improve your chances to be shortlisted for your dream to become a Data scientist in India.
Create your resume
An important step in the process to get a job as a Data scientist in India is to prepare an impressive resume that highlights the skills and experience that you have in the domain. You can update your resume by following templates and techniques that are available online. For example, this article explains how you can build your resume to apply for jobs as Data scientist. However, you can also use professional paid resume writing services that will assist you in building such resumes that will stand out and help you in landing the interviews for a Data scientist job. In this respect, the Henry Harvin Data Science course stands out as it provides such a Resume writing service integrated within the course itself.
Publish articles
The next step is to create your portfolio and write blogs and articles on topics in this field which will help you to gain perspective on the latest happenings in the field. It will also help you to gain visibility amongst the industry professionals and build a professional network with them. You should use sites like LinkedIn to publish your work on these topics. It will also help you to connect with the industry professionals.
You should create your own GitHub repository and upload your projects and assignments there. You can also add more self-learnt projects to highlight the skills that you gained in the course. These projects and programs should mimic real-world problems that are typically solved by Data scientists.
Work in internship projects
If you are a fresher, you should also apply and work as an intern in internship projects to gain the practical experience of working in real-world projects. Here you will find the Henry Harvin Data Science course to be valuable as it provides you with internship opportunities with Henry Harvin or its partner organizations.
Are you ready to take the plunge to become a Data scientist in India?
By now you must have understood the domain of Data Science, the knowledge and skills required, the various courses that you can take, the vast job opportunities and salaries that you can get if you aspire to become a Data scientist. Are you ready to dive into this exciting and challenging domain and get the "sexiest job of 21st century" as described by Harvard Business Review?
Here is the summary of the things that you should do right away :
Read about Data Science concepts and join discussion groups where Data scientists discuss the latest trends and business challenges that are addressed
Join a Data Science course that teaches you the concepts, skills, techniques, and tools. Choose a course that covers the latest topics and covers at least 75% of the required skills required for the job. An example here would be the Henry Harvin Data Science Course which was earlier described as it is a #1 course in India.
Build a public portfolio where you can write blogs and articles on the latest topics in this field. Also, create a repository of your projects that you have developed as a part of your certification course. Also, add more applications that mimic real-world problems faced in the business domain.
Prepare a concise and effective resume that highlights your skills, your knowledge, and your practical applications of that knowledge.
Network with other Data scientists over public groups and look out for potential job openings that are discussed in the various groups.
Get started NOW to follow your dreams and aspirations to become a top Data scientist in India. Click on the link to learn more about the Henry Harvin Data Science course that is #1 in the top 5 Upskilling courses in India
Recommended Reads
Frequently Asked Questions
1. What is Data Science ?
It is a multi-disciplinary approach to be able to extract, process and generate actionable insights from massive amounts of raw data which can be used to drive business decisions.
2. What does a Data scientist do ?
A Data scientist is an expert who can apply the Data Science knowledge and skills to effectively analyse raw data and translate it into insights or trends or behaviour patterns which will positively impact the organization's business.
3. What skills do I need to become a Data scientist ?
To become a Data scientist, you need to have a good background knowledge in mathematics and statistics. You should be analytical and have a data-driven approach to arrive at results. You should have programmatical skills in Python or R language. Good communication skills is an important asset to become a Data scientist.
4. Which course is the best for learning about Data Science ?
Henry Harvin Data Science course is the top course as listed in India Today and Tribune India. This course enables you to master the essential skills which will take you on your path to becoming a Data scientist.
5. How can I get a job as a Data scientist in India ?
You should invest time in preparing a resume that highlights your the skills to become a Data scientist. One should also create a public repository of the projects that you have worked on during your course. The next step is to apply for the relevant jobs in LinkedIn and other job portals. You can take assistance from the training institute as they provide job placement opportunities.