Data Science is a discipline that combines subject-matter knowledge, programming expertise, and competence in math and statistics to draw forth valuable insights from data. Info Park campus [ IT park] next to Kochi has many software companies providing training and jobs in this field. Seeing that Kochi is the Centre of learning for many aspiring data scientists, city became the data science learning hub. The following article presents the Top 7 Data science courses in Kochi and gives a brief idea of Data science, its demand, scope and career opportunities in Kochi.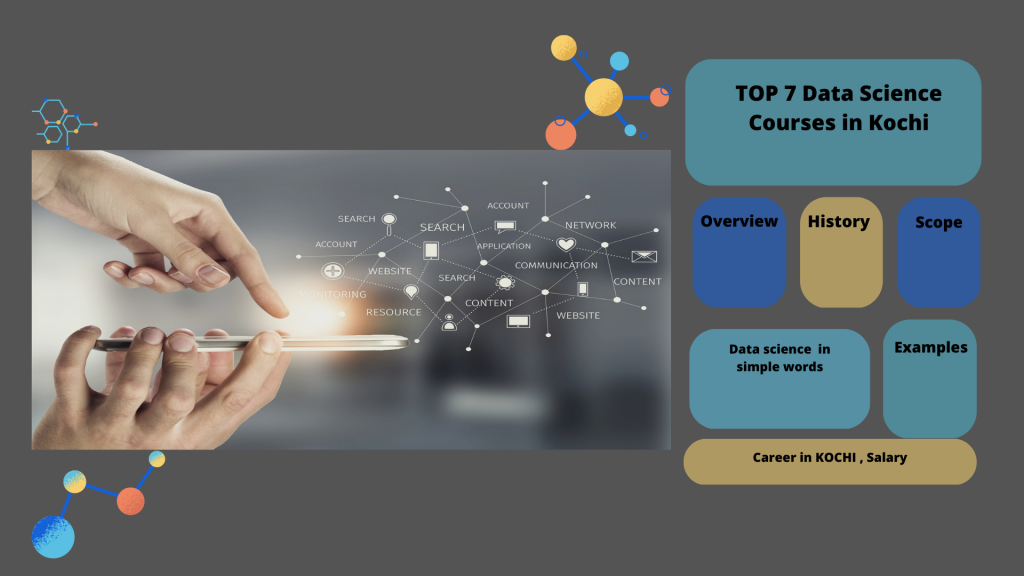 1. Henry Harvin
Ratings 9/10
The goal of this Academy is to upskill aspirants with in-demand data science & analytics competence. They are among the best providers of Data science courses in Kochi. Here Experts with in-depth industry expertise deliver skills through action-oriented learning solutions. also, Academy inspires aspiring data science professionals to realize their full professional potential. It ranks first in the list of top 5 upskilling courses in India. The most fundamental abilities required to use data science in a variety of real-world scenarios are provided to students and Data Analysts through Data Science Training Courses. Before 2030, the academy intends to operate in its outreach regions and turn out 50,000 employable data scientists and analysts. Currently, there are 16,192 Learners.
Course name
Data Science Course Training
Key takeaways
During the course
Trainers with 10+ years of experience.
This course covers more than 50 tools.
32 Hours of Two-way Live Online Interactive Classroom Sessions with 50 hrs of E-Learning Access.
Get one-on-one mentoring from sector experts.
E-Learning Access includes recorded videos, revision sessions, projects and much more for 1 year.
5 modules in the curriculum
Get Project-Based Training in Data Science with an Emphasis on Learning While Doing also, learn the Well-Known GCAO Curriculum.
1 year of gold membership
After the course
100% assurance of Internship with Henry Harvin or allied firms.
Get 10+ job opportunities per week.
CDS hallmark Certification
The course is Trusted by more than 60 colleges and 160 corporations.
After the first session, if you're not happy with this course, they will give you your money back in full.
Mode of classes
Online and offline
Course duration
4-6 months
Other courses
Address
7th Floor, Alapatt Heritage Building, Mahatma Gandhi Rd, Kochi, Kerala 682035
Contact
9891953953
2. Data mites
Ratings 8/10
Data mites is the top data science training provider in Kochi. Data mites' sight on Moulding software professionals and freshers in the field of computer engineering and analytics. It gives excellent in-class guidance also, dedicated customer support to answer students' queries. Data mites aims to provide tailored solutions based on the needs of the trainee. The courses they provide are economical, evaluative and appropriately designed. In addition, classes are updated from time to time by experts with attractive experience. it is among the top data science courses in Kochi. Ashok Veda is the Leading mentor at Data mites with 19 years of experience and trained 20k data science aspirants. Data mites offer 10+ varieties of courses in data science as per the need of aspirants. Accordingly, the price and duration of the respective course may vary. At present they are offering discounts on the prices.
Course name
Data Science course
Key takeaways
Specialized curriculum with guaranteed personalized counselling
Here trainers are industry experts and PhDs. With coaching expertise.
Together with In-Depth live interactive training, self-study videos and books are also available.
Legitimate projects and incredibly useful case studies.
24/7 assistance
The course covers Tableau, Statistics, Python/R, and Machine Learning algorithms.
Access to cloud Lab
Get global recognition with industry-valid certifications.
Guaranteed Internships
Resume & interview preparation with exclusive job alerts.
25 Capstone & 1 Client Project
Course duration and fees
Virtual [online classes]- Rs 67,548
8 months
Self-learning + live mentoring – Rs 42,948
1-year e-learning access
Offline [classroom]- Rs 78,823
8 months
Mode of classes
Online and offline
Other courses
Artificial intelligence courses
Python training courses
Machine learning courses
Address
Valamkottil Towers, DATAMITES SOLUTIONS PVT LTD No. 6/858-M, 2nd Floor, Suite No.756, Judgemukku, Kakkanad, Kochi, Kerala 682021
Contact
062822 86062
3. Roger soft
Ratings 7/10
ROGERSOFT Technologies was founded as a result of the motivation of IT specialists working in ISO/CMM level firms from Bangalore's IT Hub and abroad. With a 100% course completion rate, they have completed 1000+ Batches also, in sum they have trained 21000 learners. They aim to develop learners into experts with the assistance of skilled IT professionals in Kochi. indeed, it is the leading provider of on-demand data science courses in Kochi.
Course name
Data Science & Analytics Course Training
Key Takeaways
They adhere to the internationally recognized curriculum.
Personal Attention.
Trained instructors.
A flexible fee schedule.
Complete assistance with job placement.
Various training programs in both classroom and online software development and testing are available at the Kochi training Centre.
Course duration
3 months
Mode of classes
Online and offline
Other courses
Data Warehouse Training
R Programming Training
Artificial Intelligence Training
SQL Training
Address
ROGERSOFT, NS BUILDING, 2nd Floor, Behind collectorate signal, Kakkanad, Echamuku, Kochi, Kerala 682030
Contact
+91 94464 88187
4. Soften Technologies
Ratings 7/10
Soften technologies is the top horse professional IT training institute with 12+ years of experience in this field. Hence It can be the best choice for well-structured courses and intensive training in Kochi. In addition to alumni and track records, soften technologies has experienced trainers with 7+ years of experience. They have trained 30,000+ IT experts. Not only conceptual learning but also practical training is the core part of the various courses including data science courses in Kochi.
Course name
Data science training
Key takeaways
Upskill the concepts with live projects and assignments.
The course is designed with mixed learning [ online + offline ]
100% placement assistance
24/7 student support
Reasonable course fees
Practical training
Mode of classes
Online and offline
Other courses
Python
JavaScript
Cloud computing
Address
2nd CVP Chembers Sahodaran Ayyappan Road, opp. GCDA, Kadavanthra, Kochi, Kerala 682020
Contact
081297 01739
5. IMS Pro school
Ratings 8/10
IMS Pro school is one of the top analytics institutes in Kochi. They have trained 6000+ students. In addition to a new batch every month, they have student groups focusing on learning and applying skills. It is one of the top skill development organizations in India with NSDC approval and ranks on the top list of data science courses in Kochi. It offers a distinct "active learning" approach to skill development and a thorough awareness of the needs of the business. Presently Varun Kumar Angur Alia and Joyeeta Banerjee are the expert faculty at the IMS Pro school. Due to the information and abilities acquired from this course, all of their alumni got hired into high-ranking jobs at reputable companies such as TCS, EY etc. IMS Pro school is the industry leader in providing top-notch courses that help students advance their careers through demanding professional certifications.
Course name
Data Science certification course (Analytics + ML)
Key takeaways
Job-focused training
Industry-specific Certifications
Adaptable course depending on the needs of the learner.
They have 2 Terms,3 months each which cover core knowledge, skills and programming.
In addition to active learning, they also focus on skills application.
8+ hours per week of faculty-led teaching.
100+ comparable jobs are available.
Course duration
6 months
Mode of classes
Online and offline
Other courses
Cybersecurity
Business analytics course
Address
2nd Floor, PAVANA House, KP Vallon Road, Above Union Bank, Kadavanthra, Ernakulam, Kerala 682020
Contact
09645629999
6. Techolas Technologies
Ratings 7/10
Experts from Techolas will guide you to master data analytics, data science and more. Their admission team is available to help you create a unique, personalized curriculum. In fact, Techolas technologies guarantee to increase your career through top-notch training in specialized tech fields like Data science, big data, Full stack and more. Mithun Raj and Vishnu Vijayan are directors whereas Anjana Alex, Sherin Mariyama and Syamili Anil Kumar are trainers. Rakesh A R is the branch manager of the Kochi Centre. In Kerala, Techolas had succeeded in ranking as one of the top training institutions. The course syllabus is also constructed in a manner suitable to what the industry believes.
Course name
Master in data science
Key takeaways
Guaranteed 3 Certification after completion of the course
240 hours of on-demand training
2 Industrial projects
50 hours projects
20 hours pre-placement program
The curriculum includes 10 modules.
Course duration
7 months
Course fees
Rs 60,000
Mode of classes
Online and offline
Other courses
Data Analytics
Full stack development
Software testing
Address
1st Floor, Vasudeva Complex, palarivattom, Kochi, Kerala 682025
Contact
+91 73567 13111
7. SMEC labs
Ranking 8/10
People who want to change their careers in Kochi should take this Data Science course from SMEC labs. They offer both online and offline from highly certified instructors. More than 200 international businesses partner with SMEC for online training such as Google, Microsoft and many more. They stand No.1 in terms of Skill development training, practical orientation and placement opportunities.
Course name
Data Science Course – Master Level
Key takeaways
Shareable certification [ both national and international]
60+ industry-graded projects and assignments.
Online and offline classes are available in Kochi.
Prerequisites- basics of SQL, JAVA, and PYTHON.
24/7 remote lab support.
Flexible schedule of the course
This course is ideal for software engineers and analysts, developers aspiring data scientists, analytics managers, and business analysts.
In addition, freshers can also shift their careers in this field and graduated candidate can upgrade their careers.
This course helps you to avail job opportunities in Kochi such as data engineer, research engineer, data scientist and many more.
Mode of classes
Online and offline
Other courses
Master in big data analyst
Expert in AI
Advanced data science
Address
2nd Floor Kaloor Bus stand Complex Cochin.
Contact
+919958873874
What is Data Science in simple words?
Data science is the field that deals with dilemmas such as What are the practical applications of data? How can we make it work for us? Data now has greater value than ever. The proper management of everything, from the government to small businesses, depends on it. Data is now described as the 21st century's "oil of the digital economy." in general The subject of data science is expanding quickly and transforming numerous sectors. It offers countless advantages in daily life and business. For example, Your most recent google search for the nearest interior designer. latest Instagram post on where you visited. recent online hotel bookings on websites. recent sign-up on shopping websites. Data scientists Search for connections and patterns while navigating through enormous data.
Examples of data science
1.Related searches for a search query.
Not only Google but also Yahoo, Bing and other search engines make use of data science techniques and offer quick and accurate answers to our search queries.
2.Digital Targeted Ads
Have you seen data science course ads, fashion products ads and real estate ads at the same time on the same page? It's nothing but data science algorithms. These ads might be targeted because of past searches and behaviour.
3.Recommendation of products/services from websites.
Let's say while buying a mobile phone on Flipkart / amazon aren't we looking for suggestions or similar phones from other brands? This helps us to find the required phone from millions of other products. In fact, Many businesses have actively promoted their items using this mechanism.
4.Face and speech recognition
Have you ever got an automatic tag suggestion for uploading photos with friends on Instagram or Facebook? It's nothing but a face recognition algorithm. Sometimes you do not wish to type a message. You use google voice, Alexa, and Siri. It is because of the speech recognition algorithm. The list of data science examples is endless because it is everywhere where data is accumulated.
Data Science Career in Kochi
The graph of data science jobs and internships in Kochi is increasing. As per the ambition box, the average yearly income for data scientists in Kochi is 8.0 Lakhs. On the indeed platform there are 20+ Data Scientist jobs for fresher and intermediate levels in Kochi, Kerala. Due to the strong demand for people with data science experience or training, several businesses need help filling open positions. Kaggle, a subsidiary of Google conducted its sixth annual industry-wide poll in September 2022 in an effort to present a truly complete picture of the state of data science. As per Kaggle 2022 survey reports, there are More than 10 million data scientists. Over 50% of employed data scientists now use virtual studio code.
Data science salary in Kochi
Know the many sorts of data science projects companies are searching for and how to showcase them on your CV. In addition to university degrees, aspiring data scientists can enrol in online courses at sites like Coursera and Udemy. As of February 2023, on the Glassdoor job search website, there are 50+ data scientist jobs. In Cochin, the average yearly salary for a data scientist is Rs 7,25,893. Additionally, students who are planning an industrial tour of the greatest company in Kerala, Codemehub can be the perfect option. They provide both engineering and non-engineering students with a fantastic opportunity to take part in industrial tours.
Is data science a good career in Kochi?
At the moment, data science is steadily getting popular in industries like e-commerce, travel, education and many other prominent industries. If you have experience working as a data scientist in Kochi, you can transition into other positions such as Data engineer and architect analyst for data. There are various courses both free and paid available in Kochi. Many data science experts offer master level and beginner level data science courses in Kochi.
Scope of data science in Kochi
Data Science has steadily expanded over the past 30 years. Governments, geneticists, engineers, and even astronomers are now using it. The use of big data in data science involved more than "upgrading" the data. It also involved changing how data is processed, investigated, and analyzed. Technically, data science comprises search engines, robotics, speech recognition, and even more. Today, data science has an impact on business, government, and economics and the fields of biology, medicine, healthcare, social sciences are now included in data science.
Overview
Nowadays Businesses automatically customise the online purchasing experience through data science. Not only e-commerce but also healthcare, social media, finance and other prominent fields apply data science. Data is generated whenever you browse a business' website, make an online purchase, or subscribe to an email list. The amount of digital data gathered increases together with the rise of online business. The dilemma is that none of this data is sorted or categorised, and as a result, it can quickly accumulate. This is where data science, as well as data science companies, come into the picture. Data science focuses on separating relevant information from raw data to provide insights that can be used. Data science is in charge of bringing new brands, and new services producing field insights. In fact, it helps to improve the convenience of our lives.
History of data science
Data science in 19th century
John Tukey outlined a change in the field of statistics.
Basically relating to the integration of computers and statistics.
Peter Naurn gave his own complex explanation of the new idea.
John Tukey conducted The examination of preliminary and definitive data should be conducted simultaneously. In order to choose "which" theory to test, it is crucial to use data,
C. F. Jeff Wu used "data science" for the first time as a substitute for the term "statistics".
This year marked the launch of a new field concerned with data from a variety of sources and kinds. also,integrating recognised statistics and data analysis concepts and principles with computing
Knowledge discovery and data mining were popular phrases for the process of identifying trends in datasets (which were growing larger).
International Federation of Classification Societies became the first conference to emphasise data science as a topic in particular.
C. F. Jeff Wu stated that data science should replace statistics.
He argued that a new name would assist statistics overcome false perceptions such as being just used to describe data or being associated with accounting.
Hayashi Chikio presented the case for data science as a fresh, interdisciplinary idea with three components such as data design, data collecting, and data analysis.
Jacob Zahavi emphasized the requirement for new tools to manage the enormous and ongoing growth of the data that is available to enterprises.
Data science in the 20th century
Saas was developed. This was a pioneer in employing cloud-based software. William S. Cleveland is frequently credited with developing the modern idea of data science as a separate academic field.
Data science journal was published. This specialised on topics such data system descriptions, internet distribution, applications, and legal concerns.
National science report
Data scientist was used to refer widely to any crucial position in running a digital data gathering.
The term "data scientist" gained popularity and eventually entered the vocabulary.
Its adoption as a catchphrase is credited to DJ Patil and Jeff Hammerbacher of LinkedIn and Facebook.
There was a rise in conferences and seminars devoted solely to big data and data science. Additionally, 150% surge in job postings for data scientists.
Technology experts Thomas H. Davenport and DJ Patil coined the tagline "Data Scientist: The Sexiest Job of the 21st Century". even major city publications like the New York Times and Boston Globe reported on that. They restated it ten years later, saying that "employers are seeking candidates for the position more than before."
The American Statistical Association's Section changed to Statistical Learning and Data Science,reflecting the growing acceptance of data science.
Bloomberg's Jack Clark
2015 marked a turning point for artificial intelligence (AI). Within Google.
Over the course of the year, the number of software projects utilising AI expanded from "sporadic usage" to even more than 2,700 projects.
Developing new skills in developing technologies will enable professionals to succeed in the competitive tech industry of today. The growth of IoT, cybersecurity, 5G, and AI/ML will begin in 2023. Increased automation will present possibilities to explore new abilities.
Final words
To sum up, data science is almost everywhere. Thus, demand for Data and data scientists will never fall. Smart city Kochi is booming in the field of data science with multiple job and freelance opportunities. Not only seniors but also freshers are inspired to learn and ready to take data science courses in Kochi. The above article gives you a brief idea on the Top 7 data science courses in Kochi. Scope of data science
Recommended reads.
FAQs
Q.1 Is Kochi good for a data scientist career?
There are many data science companies such as Go free lab, Travancore Analytics (P) Ltd even more. This opens many jobs and freelance opportunities for aspirants.
Q.2 What is the future of data science?
As per The World Economic Forum, Global data production is predicted to reach 463 exabytes per day by 2025. It is well-recognized that the amount of data in our environment is growing quickly. Thus, it is always necessary to examine and analyze the unprocessed data obtained from diverse sources.
Q.3 Who is a data scientist?
There isn't a whole job description for a data scientist; they probably do a few of the following: gathering a lot of messy data and formatting it in a way that's more useful, utilizing data-driven methods to solve problems in the corporate world. In addition, Data scientists are a new wave of analytical data experts with the technical know-how to address complicated issues and the inquisitiveness to investigate what issues are at stake.
Q.4 What is the eligibility for data courses in Kochi?
In Kochi, Data science classes are open to everyone, including professionals in the industry. In fact, to enroll in a data science course, you don't need any coding skills.