Emotions and people are inextricably linked, and they must be handled with extreme caution for the benefit of both employees and businesses. Emotional Intelligence, also known as EQ – Emotional Quotient, keeps the ball running by allowing one to understand one's own and others' emotions. HR can be a leader in infusing emotional intelligence into a company's culture, which will assist the company to retain top personnel and achieve its goals through effective leadership. Emotional intelligence, along with creativity, teamwork, persuasion, and adaptability, is one of the top five in-demand Soft Skills in 2020, according to the LinkedIn Learning 2020 Workplace Learning study, which is backed by a global survey. This clearly demonstrates that in the post-Covid era, firms are attracted to professionals with strong people-oriented abilities to deal with future uncertainty.
Why HR needs to have high level of EQ
Companies are effectively employing the lens of EI when making crucial hiring, performance, and personnel management decisions following Covid-19. They, coupled with leadership support, can create a happy, engaged, and productive workforce, even in distant settings. Successful leaders and high-performing individuals have a high level of EQ. Employees need EI to deal with a variety of emotions such as setbacks, difficult clients or employers, stress, disagreements, rage, frustrations, obstacles, and so on. Self-Awareness, Self-Regulation, Internal Motivation, Empathy, and Social Skills are five components of Emotional Intelligence, according to Daniel Goleman, an author and psychologist. HR can use these aspects in numerous permutations and combinations to improve the employee and candidate experience.
Here are some examples of how HR's Emotional Intelligence may add value to a company:
Hire prospective candidates with high EQ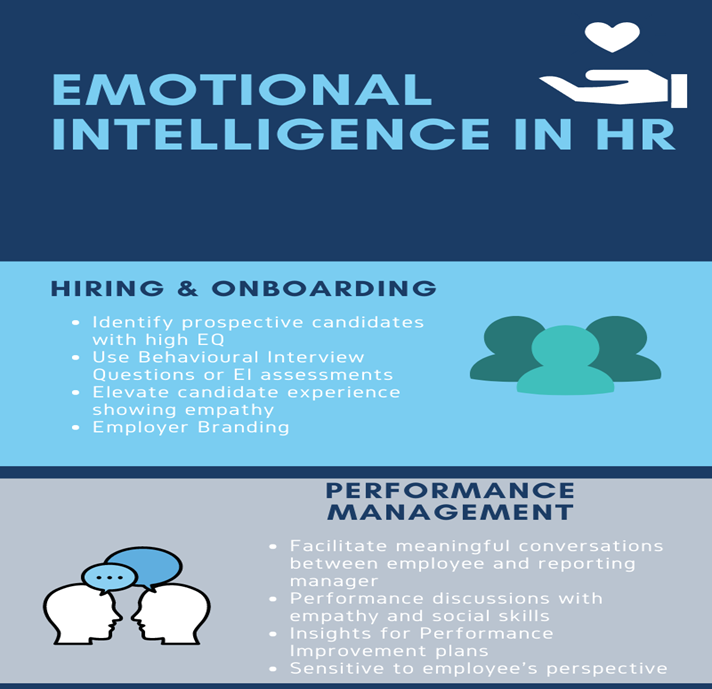 HR technology will make the process easier but giving applicants in the pipeline a personal touch by interacting with empathy will entice them to join the company. During the employment process, candidates' Emotional Intelligence skills can be measured by behavioural interview questions and general observation of how calmly they respond to challenging topics or how they respond to nonverbal clues (eye contact, body language, tone, etc.). These applicants know how to deal with stress, solve problems, work in groups, demonstrate empathy, and motivate people to achieve common goals. Employees and hiring managers can acquire trust and confidence by using the HR team's EQ as a lever for internal branding through effective communication.
Meaningful conversations for Performance Management
When it comes to performance management or appraisals, HR can help employees and their reporting managers have meaningful conversations. The more information HR has, the more performance improvement plans they can develop to keep employees and improve management style to better manage the team.
Reward and recognition should communicate to employees that the organisation values their work. While cost-cutting measures are a top concern, HR must be exceedingly sensitive and show a high level of emotional intelligence (EI) when breaking the news of layoffs to the company's valued employees and be prepared to address a slew of questions. Employees' emotional reactions must be replied to appropriately while also regulating one's own emotions and remaining in the dialogue to answer complicated questions such as why me, who made the choice, what's next for me, and more.
Promote imbibing EI through Training & Development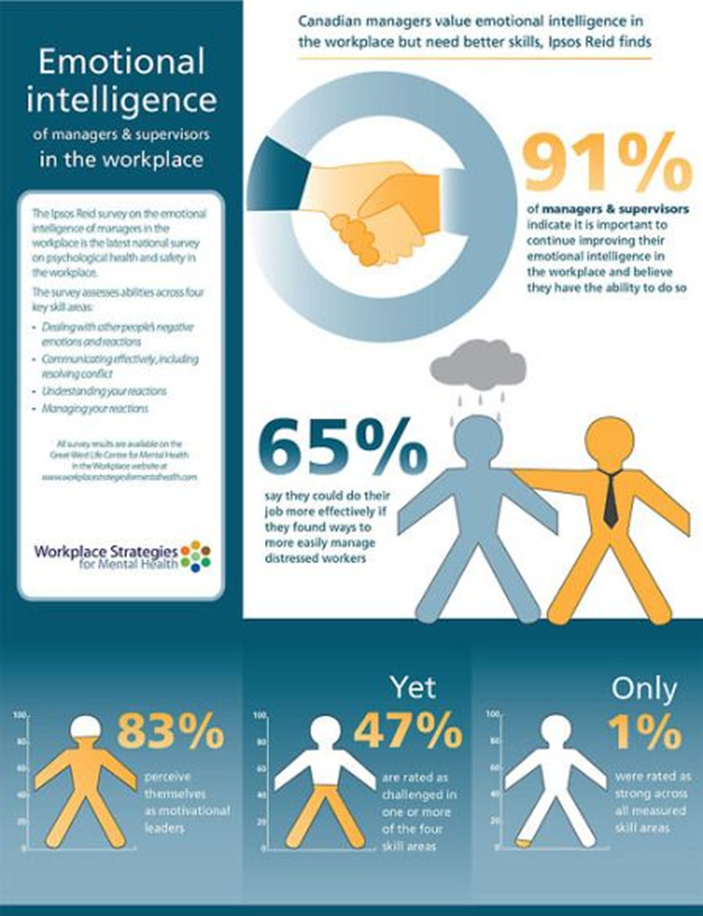 Employees with EI training can be encouraged to recognise the value of emotional competence and seek to develop or improve it through appropriate training programmes or workshops at all levels. HR's EI can assist employees in identifying present and future desired soft or hard skills, as well as support their career development objectives, through training need identification talks. Leaders can be taught in EI to improve their abilities to motivate people, listen, demonstrate empathy, and establish a positive work culture that encourages openness to new ideas.
Act as retention lever through Employee Engagement
HR, in partnership with supervisors, can determine employee engagement levels on a regular basis by providing sympathetic feedback and reviews. Employees seek meaning and purpose in their work, as well as recognition and a mentoring connection with their supervisors to learn and improve. Employees will gain confidence if you summarise the entire talk and come up with takeaways or actions to be taken after a productive contact with follow-ups. Different things and methods motivate and engage people in different ways.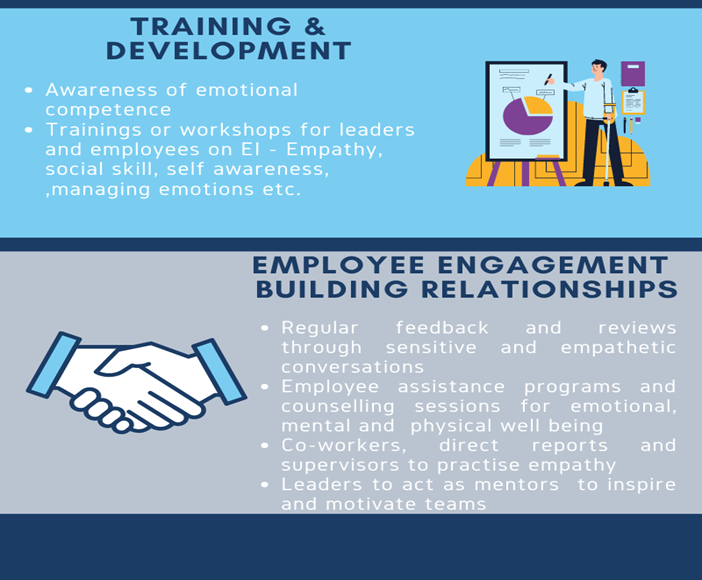 Care about Mental Health of employees
HR can use emotional intelligence and social skills to assess emotional and mental health difficulties among employees on an individual basis because of their personal circumstances, and then provide personalised support before the situation worsens for productivity and the employees themselves. Employee assistance programmes and counselling sessions can be utilised as tools to help employees manage their mental health difficulties by increasing self-awareness and emotion management.
Build strong relationships with empathy
Now that remote work is the norm, an empathic approach is required to support employees and ensure that they are as productive at home as they are in the office. Communicate with them clearly and openly about the project, process, tools, resources, training, and deliverables. Also, gather information by asking open-ended questions about how and when they are most productive, how comfortable they are with the work they are assigned, regular progress, any obstacles in finishing a task, any personal concerns influencing the job, any mental health care needed, and so on. Utilize this data by taking an empathic approach to knowing each employee's capabilities and experiences and adjusting for unique conditions as needed.
Conclusion
We are witnessing a major shift in HR due to technological advancements such as AI, machine learning, and robotic process automation (RPA), which can be helpful, but when dealing with employees who are human and have emotions, Emotional Intelligence is essential. When a company practises EI, it can serve as a retention tool for employees and a competitive advantage for staying ahead of the competition. This in-demand soft skill has emerged as one of the requirements for leaders to effectively communicate with their employees and create a productive workplace.