Emotional Quotient/Emotional Intelligence as defined by Peter Salovey and John Mayer is stated as "the ability to monitor one's own and other people's emotions, to discriminate between different emotions and label them appropriately, and to use emotional information to guide thinking and behaviour".[i]
EI isn't a brand-new concept. It has been around for a while. In fact, Daniel Goleman wrote a book about the subject in 1995. Emotional Intelligence, according to Goleman's book, has a role in deciding success on a variety of levels, including job, relationships, and physical well-being. In terms of business, Goleman claims that EI is particularly important in the domains of leadership and staff development.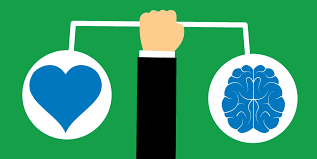 Should HR professionals possess emotional intelligence?
It's a fair question in today's workplace, especially since potential and present employees allow emotion to play a significant role in their decision-making process about their employer and their everyday life. There are numerous instances in which emotional intelligence plays a significant part, whether consciously or unconsciously.
Human Resource is a function dealing with people. Emotions and people are inextricably linked, and they must be handled with extreme caution for the benefit of both employees and businesses. We may have the most up-to-date HR Tech trends to help us enhance efficiency and performance, but we are still dealing with humans, not robots.   Emotional Intelligence, also known as EQ, is what keeps the ball rolling by allowing one to understand one's own and others' emotions. HR is linked to some of the most emotion-driven times in an employee's life cycle, including the first day on the job, discussions about pay and promotions, grievances and training, and even the last day on the job. HR can be a leader in infusing emotional intelligence into a company's culture, which will assist the company retain top personnel and achieve its goals through effective leadership.
Hire prospective candidates with high EQ
HR's EI may help elevate candidate experience, which is important for creating a company brand. HR technology will make the process easier, but giving applicants in the pipeline a personal touch by interacting with empathy will entice them to join the company. HR's cognitive empathy, or the ability to think about and understand another person's point of view, demonstrated during new hire onboarding makes it easy for them to settle in quickly.
Meaningful discussions for Performance Management
When it comes to performance management or appraisals, HR can help employees and their reporting managers have meaningful conversations. Even non-performers can benefit from emotional and social skills when dealing with uncomfortable situations. Conversations with the proper questions, an attitude that inspires employees to speak up on difficulties, and the right affirmations can help you learn what matters most to each employee, what inspires them, what work they like/don't like, what performance issues they experience, and so on.
Function as retention handle through Employee Engagement
Employees who are happy and motivated are often those who can handle their own, as well as others' emotions in a variety of scenarios and, are dedicated to their work and organisation. Productive interaction with employees that includes showing interest, listening attentively, recognizing what they've to say, and asking follow-up questions with a pleasant tone and affirmations can help you learn more about what they believe and feel.
Care about the Mental Wellbeing of workers
Employees are experiencing personal and professional difficulties as a result of this unknown pandemic, which appears to have no end date at this time. With work responsibilities, there are concerns about health, family, and job security, all of which can have an impact on employees' mental health and well-being, resulting in a variety of feelings such as stress, worry, fear, despair, and so on. Employees' emotional and mental health problems can be assessed using EI and social skills by HR.
Build strong relationships with empathy
HR can play a key role in fostering positive relationships among employees and managers. If both parties have a mutual understanding's emotions, how they feel or think, what their perspectives on various topics are, what their strengths and weaknesses are, how they react, their work approach, and what motivates them, the benefits of this effective work relationship may be multiplied. There will be more productive solutions, open dialogue, supportiveness for each other's objectives, and a positive working atmosphere. 
Conclusion
We are witnessing a major shift in HR due to technological advancements such as AI, machine learning, and robotic process automation (RPA), which can be helpful, but when dealing with humans, Emotional Intelligence is essential. When a company practises EI as a whole, it can serve as a retention tool for employees and a competitive edge for staying ahead of the competition. Following Covid, the value of an EI-driven company has gotten a lot of attention. This in-demand soft skill has evolved as one of the requirements for leaders to effectively communicate with their employees, establish relationships, and create a productive workplace. 
Going back to the start of this article, a question was raised: "Should HR professionals possess emotional intelligence?" The answer is yes. Emotional intelligence is important for HR professionals for a variety of reasons. People who are "people smart" are preferred by employers over those who are "book smart." That isn't to imply that academic intelligence isn't valuable. It simply implies that employees must have a deeper emotional knowledge of themselves and their coworkers to maintain a balance between their personal and professional identities.